Access the Card Story by clicking on the green [物語] icon on your home screen.
You will need to awaken the character to a certain percentage to gain access to reading the first chapter of his personal story. Chapters may be continued upon further updates of the game.
SD (chibi) characters have a total of 3 stories.
Card Rarity
Story unlocks at
5
90%
4
70%
3
50%
2
20% (1st Story)
40% (2nd Story)
60% (3rd Story)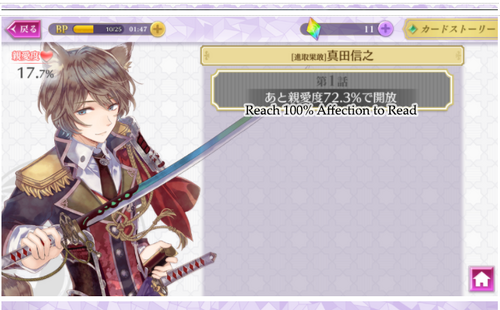 View card stories by character
[
]
Oda Clan
Akechi Mitsuhide

Mori Ranmaru

Niwa Nagahide
Toyotomi Clan
Takenaka Hanbee

Ishida Mitsunari

Toyotomi Hideyoshi

Kuroda Kanbee

Maeda Toshiie
Uesugi Clan
Kakizaki Kageie

Uesugi Kenshin

Amakasu Kagemochi
Takeda Clan
Yamagata Masakage

Takeda Shingen

Kousaka Masanobu

Baba Nobuharu
Sanada Clan
Kirigakure Saizou

Sanada Nobuyuki

Sanada Yukimura

Sarutobi Sasuke

Yuri Kamanosuke
Date Clan
Date Shigezane

Katakura Kojuro