Introduction
[
]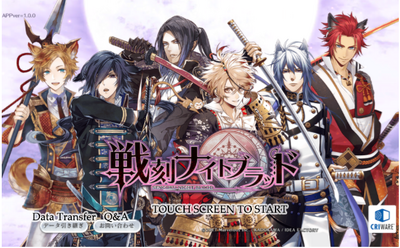 Senbura's gameplay consists of collection of character cards (of different rarity, hence different stats), usage of combination teams (to boost stats) and the player's (as the main character / MC) romantic interactions with each of the characters.
The player forms a team of 5 characters to fight against enemies in the Main Battle storyline, as well as take part of PVP (player vs player) encounters and join Event Battle during events.
Character cards consist of the following rarities - 5* Ultra Rare, 4* Super Rare, 3* Rare, 2* S and 1*Normal cards. 2* consists of the SD (chibi) version of all the warriors. Character cards of 3* rarity (Rare) cards and above can be awakened once their affection level reaches 100%.
Tutorial Mode
[
]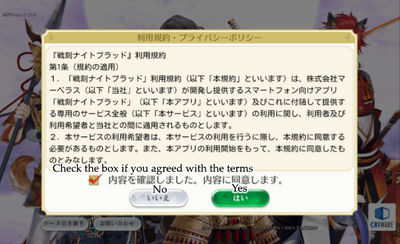 Before Tutorial Mode, you will be requested to read the Rules of Conduct and User's Agreement. Tick the check box and tap the [Green] button to confirm. For all dialogue boxes [White] = No [Green] = Yes or Confirm.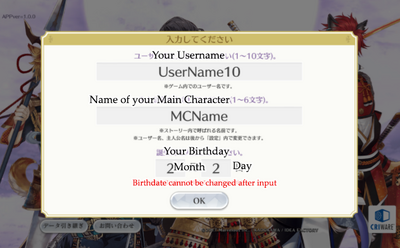 Next, you will be requested to fill in your User Name [ユーザー名], name of your ingame character [主人公名] and your birthday [誕生日] in month [月] and day [日] . User Name and ingame name can be changed later in the Profile section of the Settings. You can enter these using English Language characters. The game will now download a set of files before you can choose your Starter.
Starter Roll and Tutorial
[
]
You will be asked to choose a clan where your starter will be from. The starter character is randomly drawn from a 3* to 5* deck and is usually a 4* or Super Rare card. You would be able to obtain a 5* Ultra Rare card from the starter roll.
You will be given usually a Super Rare (4*) as your Starter. Rarely, you can obtain a Ultra Rare (5*) from this roll. A 5* will appear if the moon appearing in your loading screen shimmers.
Once you have chosen your Starter, continue with the Tutorial by following the pulsing/blinking light as shown on your screen. You will be brought through various important aspects of the game, including :
Stories [物語] Where you can experience three types of storylines - [1 Main Story マイン ストーリー] [2 Card Story カードストーリー] and [3 Event Story 

イベント

ストーリー]

Interaction [交流] Where you combine four different potions to create silver or gold mixtures for your chosen warrior to consume, improving the intimacy level between you and him. See also Awakening.
Battle [戦闘] Where you have four choices of [1 - Main Battle マインバトル] [2 - PVP 手合いバトル] [3 - Daily Battle 曜日バトル] [4 - Event Battle イベント

バトル

]
Management [編成] To organise your character cards into team. See Unit Formation
Settings [設定] Manage various options to support gameplay.
Upon completion of the tutorial, you will be shown the Newcomer Missions List and you may wish to check your crate / inbox for the pre-registration gift of 200 Gems. Pre-registration gifts will be given till 28th of June, 2017.
Newcomer Missions
[
]
The Newcomer Missions will award you a total of 150 Gems upon completion. You will be required to fulfil the following quests for each of these rewards.
Clear the Tutorial : Gacha Point 500
Unlock 3 Parts of the Main Story (finish reading them!) : 15 

Gems

 [戦刻石] You need to unlock up to Part 4 as Part 1 was part of your tutorial.
Win a Daily Battle : 2* SD Oda Nobunaga Card 
Roll Point Gacha once : 5 Gems
Carry out Interaction 3 times (requires the mixing of potions) : Gacha Point 400
Reach User Rank 5 and above : 30 Gems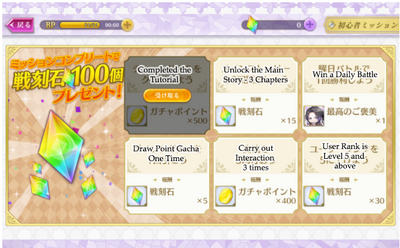 Once all missions are completed, obtain another 100 Gems as a completion reward by tapping the yellow button on the right side of the panel.
FAQ
[
]
Question : Am I allowed to re-roll in Senbura? How do I go about it?
Answer : Re-rolling is possible and here are some methods used by most users to re-roll.
Re-rolling Senbura on Android Go to your Settings -> Applications -> Scroll down and find Senbura -> Click Storage and clear data.
Re-rolling on NOX emulator Settings -> Apps -> Storage -> Click on Senbura -> Click Clear Data. You may be required to re-download the data again.
For iPhone users, you may be required to do a re-install on your device.
These methods are to be used at your own risk. We, at the Wikia, are not responsible for any failure of your device should that occur.